A Dollar for Your Thoughts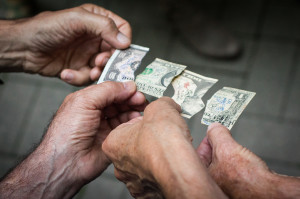 Fifty years ago, in 1964, my Dad graduated from UC Berkeley (aka "Cal"). Upon graduation, he made a pledge with his three buddies before they scattered around the globe. They tore up a dollar bill into four pieces. Each guy kept a piece and they promised to reunite the dollar bill periodically.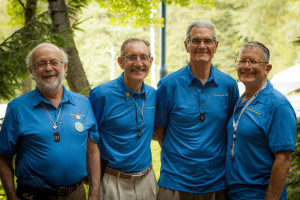 It was ten years before the first reunion occurred in 1974 in Quito, Ecuador – the four guys and their respective wives. Since that first Dollar Reunion in 1974, there have been eleven other official reunions with all four "Dollars" (as we now refer to the original four guys), plus fluctuating numbers of family members. I attended my first Dollar Reunion in 1979 at age 8, and have had the pleasure of attending many more since then. Most recently, we all met up in Whistler, BC to celebrate the Dollars' 50th anniversary.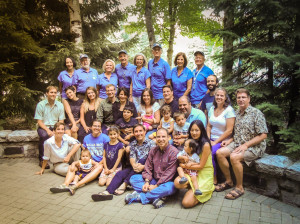 On July 26, 2014, eight first generation Dollars, seventeen second generation Dollars, and seven third generation Dollars, descended upon Whistler, BC. Our group totaled 32 and was missing only 2 second gens and 3 third gens – our most impressive turnout ever (and one many restaurants in Whistler won't likely forget any time soon).
We hiked, biked,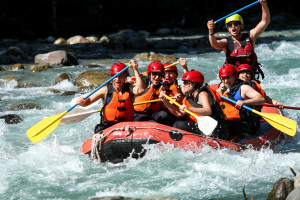 river rafted, zip-lined, canoed, paddle-boarded, spa'd, ate and in general had a great time celebrating a really special bond. These people have become like family. I've grown up with them, spent more time with them over the years than most of my flesh and blood relatives.
As someone staring down a difficult diagnosis, this reunion was particularly poignant. I watched a slide show with the group one evening and as the memories came tumbling back I couldn't suppress the thought, "Will I be here for the next one?" Jacob and Dina, witnessing their first Dollar gathering, were enthralled. Later Dina asked me quietly, "If someone dies, will they still have these reunions? Can I still go?" "Yes, Dina," I assured her, and then hid in my room as the tears tumbled.
Sometimes the hardest thing about this cancer gig is its simple relentlessness. I've gotten to do some wonderful things in the past 8 months. But, even when I'm feeling well, there are no true days off from the mental piece. We had a great vacation, with memories to treasure forever, and all sorts of exotic activities, but where do I buy the ticket for the "life before I had cancer" ride? Every time I look at pictures of myself pre-Dx I can't help thinking "Wow, I'll never be that person again – a person who doesn't have this looming overhead." I watch others enjoying things without reservation and grow wistful for the days when I, too, could enjoy things without the cloud of cancer lurking in the background of my mind to some degree, ever present. I guess I just need to keep honing my stress management skills, breathing, and reminding myself to take this one day at a time, staying "in the now" as best I can.
But, back to the good stuff. First of all, as much as I want that ticket to the life I used to have, this new life has helped me appreciate important people and moments, like this reunion, with a depth and intensity I never had before. I cherish that lesson and share that with you. If it is possible to wring a little more wonder, gratitude and love out of your life, do it – without the impetus of a cancer diagnosis, please. Second, I want to send out a very heart-felt thank you to my Dad, Howard Sanger, and his friends Juan Kohn, Brooks Reid and Bruce Shephard. I don't know how you had the foresight to tear up that dollar back in 1964, and I'm even more impressed with the friendship you've managed to maintain over half a century. I've never heard of any other (non-blood relation) group creating anything quite like what you have created. All of us second and third generation Dollars are extremely lucky beneficiaries of this one-of-a-kind connection. I treasure the entire Dollar clan and feel blessed to be a part of it. Go Bears!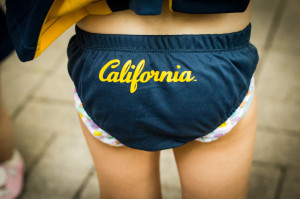 The End (sorry, couldn't help myself)