A New ROS1der FUNdraiser: Intro to the Zentangle Method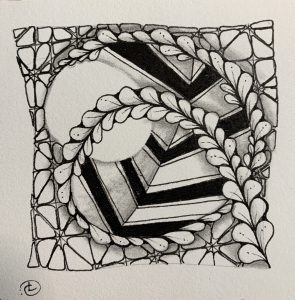 Hello – long time, no blog/chat. Got a little distracted with … attempting to merge with my couch?
I've been pondering a longer "deep thoughts" blog, but my pandemic brain is not cooperating with actual writing. In the meantime, I wanted to share an update about The ROS1ders and a new fundraiser event I'm hosting.
Last year, the ROS1ders formally incorporated and became our own 501c3 non-profit organization. Back in 2015, when my co-founders and I launched our effort to help ROS1+ cancer patients, we were new to patient advocacy work and we relied heavily on the GO2 Foundation for Lung Cancer (formerly ALCF) for structural support. We love GO2 and are beyond grateful for all their help, but after several years, it was time for us to become independent. As part of this transition, we can now raise money for The ROS1ders, Inc. directly.
We're working with the top ROS1+ researchers in the world to develop our next research project to improve outcomes for ROS1der patients. It's exciting to have started planning the sequel to our groundbreaking ROS1der Cancer Model Project, but we know it's going to take resources, so it's time to focus on fundraising again.
Cue my newest ROS1der FUNdraiser: Intro to the Zentangle Method! While I've been busy holding my couch down, I recently found the time to take a 4-day intensive seminar and become an official "CZT" (Certified Zentangle Instructor). A friend gifted me a class with a CZT in 2014 when I was doing chemotherapy. The Zentangle Method has been shown to reduce pain and anxiety, and it also scratched my itch for creative expression, so it made a perfect gift for me. I tangled a lot during my first year of diagnosis, and ramped up again during this pandemic/election clusterf*ck of a year. So I finally decided to take the leap and become a CZT myself.
I can't wait to share the Zentangle Method with others, but I'm a little shy about jumping into teaching. So, I thought a fun way to get started would be to offer a donation-based class, where participants can contribute to my ROS1der charity fundraiser* (suggested donation ~$25). This will be a pandemic-friendly class via Zoom on December 5th at 10am PST. If you would like to learn more about this fundraiser class please check out the event page here (if you're not connected to me on Facebook and can't see this event, please message me at goldmanlisa[at]gmail.com and I will hook you up). It's going to be fun! 
Bonus for those that have read this far, Update #22: I had scans in August and they were stable, yay! It's almost time for another round already, boo. But, I'm feeling good (knock wood), so let's focus on the yay!
*Note: This fundraiser page is not exclusive to this Intro to Zentangle event.  I welcome and am exceedingly grateful for any GivingTuesday/HolidayGiving/WheneverYouLike donations and will keep the page up for the foreseeable future. Thank you for your support!