LCAM 2023 FUNdraiser – Join me for a Zentangle class!
Oh wow, it's already mid-November — I'm a bit tardy to welcome you to Lung Cancer Awareness Month! The world feels especially bleak these days, and  it's incumbent on each of us to contribute light where we can. So, it's in that spirit that I am offering up my annual Zentangle class fundraiser for lung cancer research.
For the fundraiser I will be teaching a simple Zentangle class. I put the emphasis on simple because I really want this class to be as relaxing and meditative as possible — who couldn't use a bit more of that in their life? (I know I could.) We will create a "monotangle" tile, with the option to add color if you would find that soothing. Here are some examples: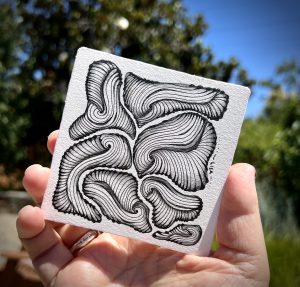 All you need to participate in this class is paper, pen, pencil, blender/qtip, and a willingness to set aside 60-90 minutes to relax (plus watercolors or water-based markers or pencils and a brush if you desire to add color). No experience necessary! The class will be on Zoom, on Sunday 11/19 at 10am Pacific time (I will record it for those who cannot attend live). If you would like join, please sign up here (so I know to whom to send the Zoom link). 
There is no charge for this class, but if you are able, I would be so grateful if you donated to help fund lung cancer research. (Even if you're not interested in the class, you are of course still welcome to donate!)  As you know, this is a cause, both literally and figuratively close to my heart. For reasons nobody understands, I've been an exceptional responder to my medication, but the majority of my compatriots are not as lucky. We need more research and treatment options. Lung cancer research is notoriously underfunded. The ROS1ders (a nonprofit I co-founded) is funding research into ROS1+ cancers so all patients can one day have great treatment options. This year we funded two $75k research grants; next year we ambitiously aim to raise $225k so we can fund three! Any and all donations are very much appreciated – thank you!