Why I Was Grateful to Give Away One of My Most Treasured Possessions (a Happy New Year Blessing)
In 2014, I met fellow LC survivor Rene Hicks. My condition was new and quite perilous at the time. Rene, though, had received her diagnosis and treatment over a decade prior and had been stable ever since.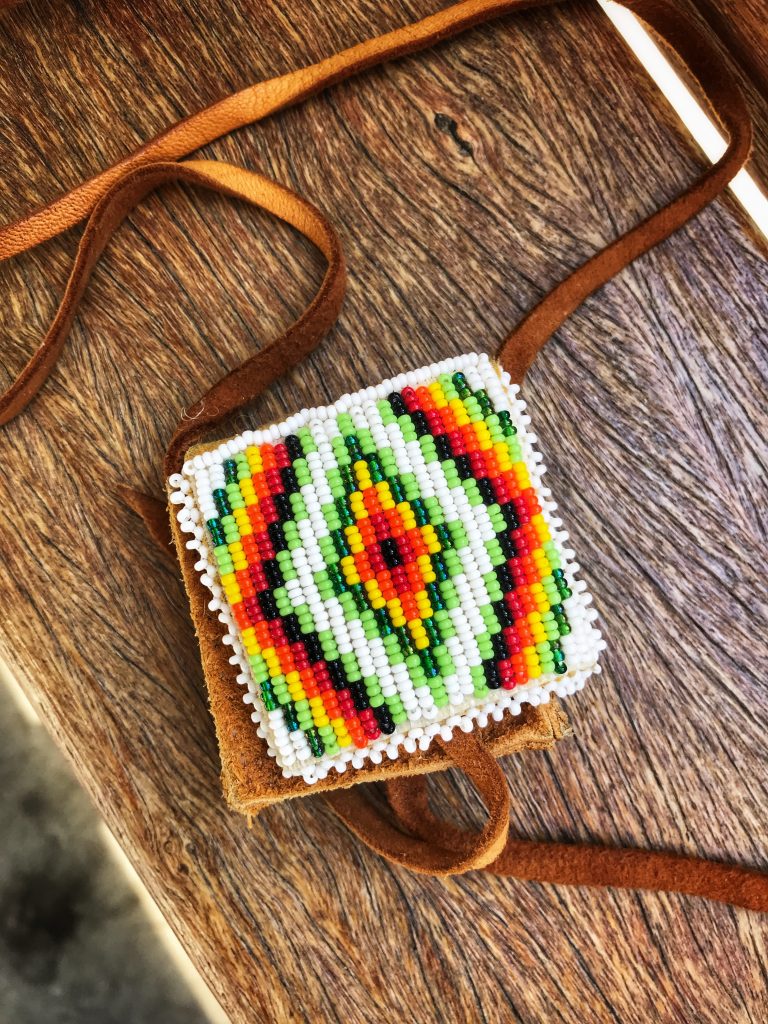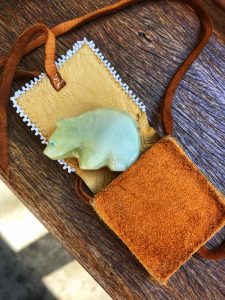 Rene was incredibly supportive and generous in those tumultuous early months. She shared with me one of my most treasured gifts: a Native American beaded pouch with a special stone bear amulet inside reputed to bestow health and protection. She told me that a friend had shared it with her when she was very ill, and now she felt called to pass it along to me. I've had it on a tray with a few other of my most significant mementos (an altar of sorts) in my bedroom ever since. I didn't think I could ever let it go. I was so honored to receive it, and felt very in need of whatever magic protection it might offer.
But, last month, I met someone very special, and I knew – it was my turn to pass on this treasure. I'd like to introduce you to my new friend Jian Jiao.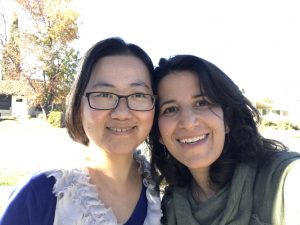 Jian is from Northern China (Mongolia). She moved to the U.S. about a decade ago to finish her graduate education at Cornell and then moved to the Bay Area to begin her postdoc career in the pharmaceutical industry. It was 2012 and all was going well: she had a career she felt passionate about (researching treatments for diabetes), she'd married her husband Andy the year before, and now she was expecting their first child. Then her world turned upside down.
In August 2012, Jian was diagnosed with Stage IV lung cancer, which had already spread to her bones and lymph nodes. She was 22 weeks pregnant. A few days after receiving her diagnosis, she went into spontaneous labor, and her daughter was born prematurely, weighing only 1 pound. Mother and daughter fought for their lives, side by side. Jian began chemotherapy while her baby stayed in 2 hospitals for 5 months, many times close to death, every time miraculously surviving. She is now a happy and healthy 5 year old!
At the end of 2012, just as Jian was getting accustomed to her new reality and thinking of returning to work, another crisis hit. After a minor surgery, a blood clot went to her brain and paralyzed the entire right side of her body. Jian could not sit up, speak, or do basic addition or subtraction. Her world collapsed. Jian later said, "Cancer did not defeat me, but that stroke almost did." Yet, she did not give up. With love, help and support from her devoted husband, her parents (who temporarily relocated from China), her in-laws, friends, and medical team, Jian got better and better. After years of intense rehab, Jian now can read, write, talk and walk. She can cook and clean, garden, and, most importantly to her, Jian can be a mother for her daughter. And get this — as soon as she was able, Jian even became a volunteer at the cancer center, helping other patients.
After 3 years of non-stop chemotherapy (nearly 100 infusions), Jian's cancer started to come back. It was at this point that her doctor discovered that her cancer was ROS1+ (like mine) and she was eligible for targeted therapy. Jian switched to taking the drug I have been on – Xalkori/Crizotinib. Unfortunately, it didn't last as long for her. After about two years, her cancer started becoming resistant. In the last year, she had brain surgery/radiation, she tried another targeted therapy that did not work, and she's returned to chemo. Jian now seeks her next miracle and hopes to get access to a promising clinical trial drug soon.
It's been more than 5 years since Jian's world turned upside down, and the love that she's both received and dispensed is astounding. She shared her story with me with much humility and only after some prodding. She's kind, generous, thoughtful, and utterly without self-pity.
Traumatic stories are sadly commonplace in my life these days, but Jian's stopped me in my tracks. Her reality of being dealt a diagnosis similar to my own, and then a very premature baby just days later, a devastating stroke a few months after that, and all while living in a foreign country with much of her family thousands of miles away? It's simply beyond comprehension. Jian reminded me: no matter where you are at in life, there is always, always, someone who's got it worse (and someone who's got it better); and the best any of us can do is be grateful for what we have, and rise to face our challenges as best we can.
After meeting Jian, I came home and the treasured amulet from Rene caught my eye. I knew what I needed to do. I am by no means out of the woods. I have scans again soon, and scanxiety is already rumbling within. But, I have enjoyed many months of stability, and Jian is in a tighter spot than me right now. And so, with much gratitude for all the gifts I have been given, and hope for both of our futures, I passed the amulet along with love. Rene's giving me the amulet 3 years ago was a great gift, and now I realize, it's an even greater gift to have the opportunity to pass it on. This is one of those beautiful paradoxes where the magic grows greater, the more you let it go.
May we all find ways to be grateful for our gifts and ways to pass our blessings along in 2018. Happy New Year.